Peoria, IL - Congressman Darin LaHood (IL-18) on Friday, June 3rd, announced that seven of the young men and women he nominated to U.S. Service Academies have accepted appointments to attend the United States Military Academy at West Point, the United States Air Force Academy, and the United States Naval Academy.

"I am honored to have these distinguished young men going on to represent the 18th District of Illinois across the country at our nation's distinguished military academies," stated Rep. LaHood. "After meeting with them and their families, I know they will put country before self and make their family, friends, and hometowns proud. These appointees are shining examples of selfless leaders, and I give them my best as they prepare for this next chapter of their life. I commend them on their commitment and dedication on being selected to these elite military institutions. Wishing them much success!"
Appointees completed a rigorous application process conducted by a selection panel including veterans and central and west-central Illinois community leaders.
On Friday, Congressman LaHood hosted the appointees and their families at his Peoria office for a reception to congratulate them on their appointments.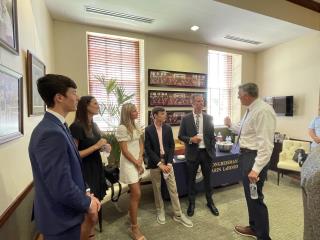 2022 Appointees from IL-18
Wyatt Bailey
U.S. Air Force Academy
Morton, IL

Carter Coffman
U.S. Military Academy at West Point
Lexington, IL

Adam Duffer
U.S. Military Academy at West Point
East Peoria, IL

George Fish
U.S. Air Force Academy
Bloomington, IL

Kyle Rolf
U.S. Naval Academy
Springfield, IL

Jettason Rose
U.S. Air Force Academy
Quincy, IL

Camden Swigart
U.S. Air Force Academy
Bloomington, IL
###