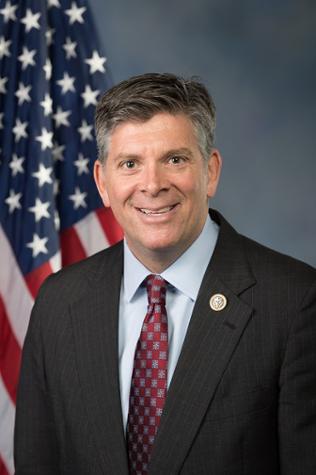 Congressman Darin LaHood, born and raised in Peoria, serves the constituents of the 16th District of Illinois. Originally sworn into the US House of Representatives on September 17, 2015, after winning a special election, he won re-election to serve his fourth full term in Congress on November 8, 2022.
From 2015 to 2023, LaHood represented the 18th Congressional District, serving much of central and west-central Illinois. Following a redistricting process, LaHood was drawn into the new 16th Congressional District.
The 16th District spans 21 counties across central and northwestern Illinois, ranging from McLean County (Bloomington-Normal) and Peoria County (Peoria) to Winnebago (Rockford) and Jo Daviess (Galena). LaHood serves over 725,000 constituents.
Prior to his election to Congress, LaHood served four years in the Illinois State Senate, beginning in 2011. LaHood spent more than nine years as a State and Federal Prosecutor. From 2001-2006, he worked for the U.S. Department of Justice as an Assistant United States Attorney in Las Vegas, Nevada and was selected as the Chief Terrorism Prosecutor. LaHood has also served as an Assistant State's Attorney in Cook County and Tazewell County. From 2006 up until his election to the House of Representatives, he practiced with the Peoria law firm of Miller, Hall & Triggs.
LaHood currently serves on the powerful House Ways and Means Committee after being selected by his colleagues in January of 2018. The Ways and Means Committee is the House's oldest committee and has jurisdiction over all taxation and other revenue-raising measures, trade and tariffs, healthcare, and Social Security. LaHood serves as the Chairman of the Ways and Means Subcommittee on Work and Welfare and is a Subcommittee on Trade.
In March of 2021, LaHood was appointed to serve on the House Permanent Select Committee on Intelligence. The committee oversees the nation's intelligence agencies including components of the Departments of Defense, Homeland Security, Justice, State, Treasury and Energy.
In January of 2022, LaHood was appointed to serve on the House Select Committee on the Chinese Communist Party. The Committee will examine the threats posed by the Chinese Communist Party, including economically and militarily, and work to strengthen American competitiveness.
During his time in Congress, LaHood has a strong conservative record of leadership for his constituents in Illinois, promoting economic development, fiscal responsibility, protecting American jobs, and support for our nation's law enforcement community and America's national security interests. LaHood has been an outspoken advocate for creating a better business climate, reducing our federal deficit, advocating for better international market access for Illinois farmers, lowering taxes for working families, and supporting the needs of rural healthcare providers and patient access. He believes strengthening America's national security is essential to combat foreign threats from China, Russia, and Iran and making America more competitive globally.
LaHood also serves on the House Democracy Partnership and currently co-chairs the bipartisan US-China Working Group, Digital Trade Caucus, U.S.-Lebanon Friendship Caucus, and Congressional Soccer Caucus.
LaHood, a third-generation Peorian, graduated from Spalding High School. He earned a B.A. from Loras College and holds a J.D. from the University of Illinois-Chicago John Marshall Law School. An enthusiastic athlete, he has completed five marathons and enjoys hiking, biking, and backpacking.
Congressman LaHood and his wife Kristen currently reside in Peoria and are the proud parents of three sons, McKay, Lucas, and Teddy.